Click here for Tibute to fallen leaders of 2009-10 by Sherry Hall, Harvard, given at the 2010 NDT
Ted Jackson, 84, long time successful coach of Michigan State Univ and Illinois State University passed away on Friday, September 20, 2013, Charlotteville, VA.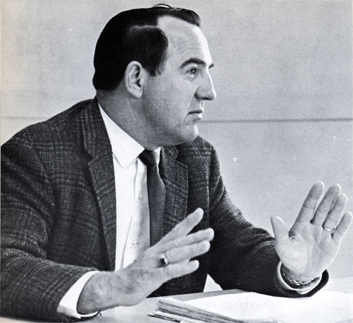 Paul Winters, a beloved professor and mentor who led University of the Pacific's debate team to national prominence, died Thursday, January 30, 2014. He was 89.
David Bloom, 39, was the winner of 1985 Copeland Award. He died from Pulmonary embolism in Baghdad, Iraq while embedded with US troops
David Bloom was co-anchor of the weekend editions of "Today" since March 2000. An extremely skilled and tenacious reporter, he also covered a number of major news stories for NBC News, including reporting from Israel on the escalating violence in the Middle East, the war on terrorism at home, and the recovery efforts from Ground Zero and the Washington, D.C. sniper story. Most recently, Bloom has been embedded with the U.S. Army's Third Infantry Division reporting on the war with Iraq.
Prior to joining "Today," Bloom was NBC News' White house Correspondent from 1997 to 2000. Covering the White House beat during one of the businest news cycles, Bloom reported on the Maryland Peace Summit with Yassir Arafat and Benjamin Netanyahu, on Operation Desert Fox and the NATO bombings in Kosovo. In addition, Bloom reported extensively on the impeachment of President Clinton and the Lewinsky scandal. He reported from the White House for all NBC News broadcasts, including "Nightly News with Tom Brokaw," "Today," MSNBC, NBC's 24-hour news and information network, and CNBC.
Prior to being named White House Correspondent, Bloom was a Los Angeles-based correspondent for NBC News since May 1995. In that capacity, he reported extensively on the Unabomber, the Freeman standoff and the war in Bosnia. He also covered Bob Dole's 1996 Presidential campaign and the O.J. Simpson criminal and civil trials. David Bloom first joined NBC News as a correspondent based in Chicago in 1993. Prior to that, he had been a general assignment and investigative reporter for WTVJ, the NBC-owned television station in Miami, since November 1989. While at WTVJ, Bloom contributed many reports to NBC News broadcasts. He provided extensive coverage of the U.S. military buildup off Haiti for "NBC Nightly News" and "Today." He contributed a report about the police investigation and capture of a Florida serial killer for "Dateline NBC" and reported from Cuba during "Today's" trip to that country in 1991. He also covered other major news stories such as Hurricanes Andrew and Emily, the Somali famine, the Midwest floods, the ATF siege of Branch Dividians in Waco, Texas, the escape of Colombian drug lord Pablo Escobar and the coup in Haiti. Bloom is the co-recipient of the 1992 George Foster Peabody Award and an RTNDA Edward R. Murrow Award for his coverage of Hurricane Andrew. He received a 1991 Regional Emmy Award for Investigative Journalism for his report on South Florida's role in the shipment of arms to Iraq. David Bloom attended Pitzer College in Claremont, Calif. from 1981 to 1985.
Tom Kane passed away May 5th in Pittsburgh. Tom taught at the University of Pittsburgh from 1965 until his retirement in 1999, coached the University of Pittsburgh to the National Debate Championship in 1981, and was twice named National Coach of the year by Emory University (1973) and Georgetown University (1981), named Honorary Citizen of Texas in 1982 for his work with high school debaters at Baylor University.
Pictured with Stephen Marzen and Mike Alberty in 1981 (Photo credit to Mike on NDT/CEDA Tradition FB page.
James Al Johnson, former Director of the NDT 1990-1992 passed away in Colorado Springs December 28, 2012. He was former professor of economics, registrar, and debate coach at Colorado College, was named outstanding forensics educator by the American Forensics Association. During his nearly 50-year career at CC, Johnson directed three national debate tournaments, co-founded the Cross Examination Debate Association in 1972, and founded the National Parliamentary Debate Association in 1993. He will be missed
.
I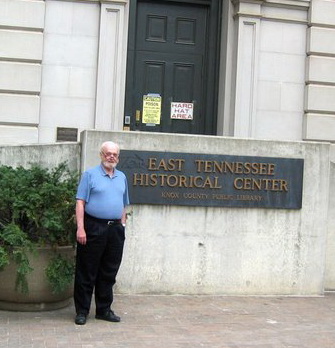 Forrest Conklin, coach of the National Championship team from Carson Newman, passed away at his retirement home, in Knoxville, Tennessee April 2011.  He had served as Director of Forensics, at the University of Northern Iowa until 1978, and continued as a Professor thereafter, until his retirement, in the late 90s.  His wife was also a tenured professor at UNI, and retired at the same time.  Among his debaters at UNI were Neal and Dana Phillips.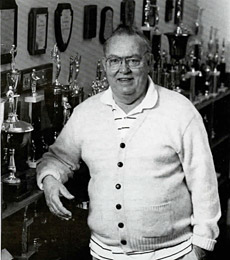 Prof. John (Jack) A. Lynch passed away Dec 2 2010. He was 89 years old. Professor Lynch was the long time coach at St. Anselm College. In 1948, he founded the St. Thomas More Debate Society and had such great success that he was named chosen as the national collegiate debate coach of the year in 1970. In his 46 years as coach, he authored more than 30 handbooks on national college debate topics. See memories of his long and influential career.

Douglas Duke passed away on March 14th, 2010.  A teacher for 46 years, Douglas Duke spent much of his coaching time with the University of Central Oklahoma.  His college coaching career began back in 1962 when he coached at Southeastern State College in Durant, OK.  He transferred to the University of Central Oklahoma in 1968 and remained there until his retirement in 2006. 
The Oklahoman: "In addition to many other awards and recognitions, his accomplishments included the following: 1990 – Cross Examination Debate Association National Championship; 1995 – CEDA Special Recognition Award; 1995 – National Cross Examination Debate Association President; 1995 – Pelham National NDT Debate Coach of the Year*; 1996 – National Cross Examination Debate Association Brownlee Award by his peers*; 1996 – Junior Debate National Championship; 1996/1997 – Oklahoma Speech Communication and Theatre Association President; 1998/1999 – Oklahoma Speech Communication and Theatre Association President. (*The only person who has ever won both of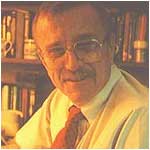 these awards)."
John Lehman passed away in January 2010 at the age of 81.  John was a former debate coach at Emporia State University and he served as the Director of this tournament in 1971 and 1972.  John was a professor of Communication and Theater at Emporia State University for over 40 years, retiring in 2004.
Scott Deatherage – From Chicago Sun-times: "Mr. Deatherage, widely considered the nation's top debate coach, died on Christmas Day after suffering a heart attack two days earlier. He was 47.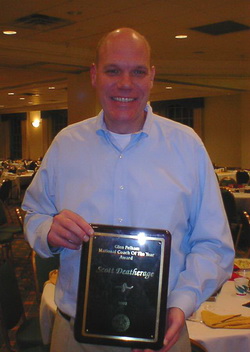 "There are 150 urban public schools that have debate programs as a result of his work with the National Association for Urban Debate Leagues," said Eric Tucker, deputy director of the organization, which Mr. Deatherage joined last year as executive director after leaving Northwestern.
He began coaching debate at Northwestern University in 1986 and became director of its Debate Society in 1990. Seven times, his team won the National Debate Tournament, the Super Bowl of debate for college and university students. He also coached four debaters to individual "top speaker" awards and was voted "Coach of the Decade" for the 1990s by his peers. Obituaries: Chicago Sun Times; Chicago Tribune; Picture Coach of the Year Award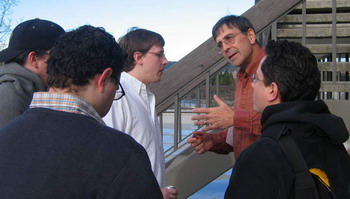 Ross Kennedy Smith ('82), the longtime successful Wake Forest Debate Coach (1985-2007) and Director of Debate (2007-2009 who lead the squad to two national championships, 2 final rounds, and four more final-four teasms, passed away July 20th, 2009. Memory of Ross Facebook site. Memorial Service at 2009 Shirley Classic tournament, Video, Pictures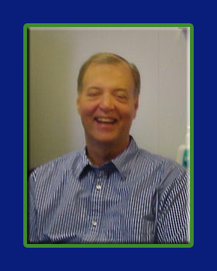 John Gossett passed away in Dallas, TX June 7th 2009after a long illness. John served as a teaching assistant and debate coach at the University of Houston from 1974-1976, and then earned his Ph.D. from the University of Southern California completing his degree in 1979. Before coming to North Texas, he served as the Director at the University of Northern Iowa (1979-1981). Gossett was a member of the North Texas faculty for 28 years, serving as Dept chair for 17 years and as Dir. of Debate for ten years. He was a member of the NDT Committee from 1982 to 1990, and a member of the NDT Board of Trustees from 1992-2002, (serving as chair for four years). Dr. Gossett was a driving force in the southwest for debate serving as the district chair and host multiple times. Gossett lead the North Texas debate program to be a perennial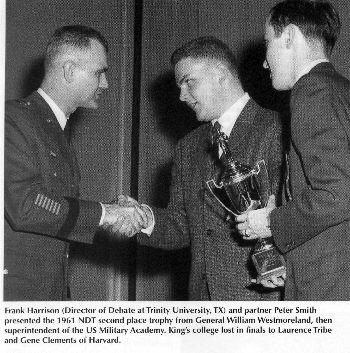 qualifier for the National Debate Tournament.
Frank Harrison passed away Monday, June 1 2009, at his home in Galveston, TX. Frank was the Director of Debate at Trinity University for twenty years. During that time he was a tremendous coach, teacher, and friend to countless debaters both at Trinity University and within the debate community at large. At the 1961 National Debate Tournament, Frank was third speaker and final round participant for King's College. He later earned a degree from Harvard Law and served as a United States Representative for the state of Pennsylvania. Debate, however, was his passion. He was the 2003 Dr. Lucy M. Keele Award winner, chair of the National Debate Tournament committee, and host of the 1991 National Debate Tournament. Although he had success coaching throughout the nation, his heart was always with the American Debate Association where he served in almost every official capacity including president.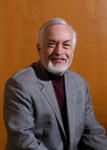 Michael Pfau, Professor and Chair, Communication, University of Oklahoma passed away March 11, 2009. Mike was the long-serving and extremely successful Director of Debate at Augustana College, SD in the 70s-80s. He earned a Ph.D. at the University and served 8 years as Professor and the Director of Graduate Studies in the School of Journalism and Mass Communication at the University of Wisconsin-Madison. He was department chair at the University of Oklahoma for a decade. Mike authored/edited 7 books, most recently, Mediating the Vote: The Changing Media Landscape in U.S. Presidential Campaigns (2007), authored or co-authored more than 100 articles and book chapters, and was a leading figure in the political communication field. Obiturary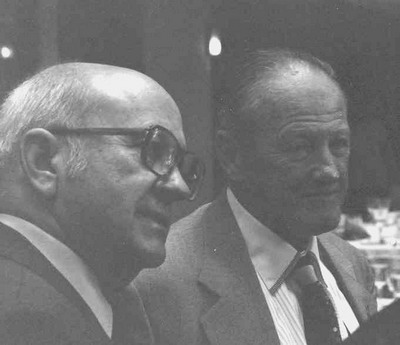 Scott Nobles, 85, died Dec. 24th in St. Paul, MN. Scott & his partner, Jerry Sanders, won the first ever national collegiate debate tournament in 1947. Minneapolis-St. Paul Star Tribune Obituary
Herb James, Dartmouth – Legendary Debate Dartmouth Coach, pictured with 1960 winners Anthony Roisman and Sazul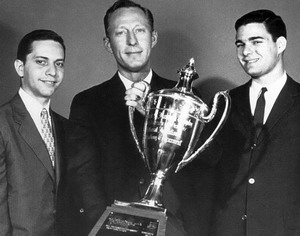 Baernstein
Matthew Grindy, Western Washington & Florida State – receiving his Ph.D. from Florida State, is sh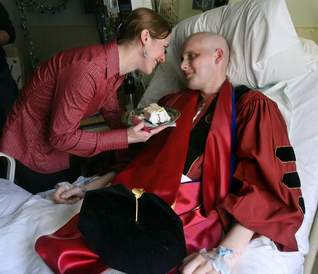 aring a piece of graduation cake by his wife, Amber Bell.

Melissa Matheny Mitchell, Emporia State & Cal State – Fullerton.  Survived by her Father David Matheny and husband Frank Mitchell (Utah NDT participant)
George Schell, Baylor – 2nd Speaker 1960, Top Speaker 1961, Two Semi-Final appearances at NDT.
James Unger – Georgetown – 66, April 3
Constitutional scholar Laurence Tribe offered this tribute:
"For most of us during the crucial decade and a half starting in the mid-1970s – the decade in which many of us came of age or settled into our lifetime careers – Jimmy Unger WAS debate, debate as high art, debate as ritual, debate as relentless analysis, debate as bloodless battle. He lived it, breathed it, epitomized it, enjoyed it, perfected it, practiced it, and made it a permanent part of our lives. For all of that, and for the inestimable wit and twinkling wisdom that Jimmy exuded for so many years, we will all owe him a huge and permanent debt. May his memory live forever in and through those of us who cared about him and who were lucky enough to be his friends."

A Coaching Award for the coach of the top 1st round team was announced at his memorial service, May 3rd in Washington DC

Washington Post Obituary
John Wallen – Claremont – passed away on May 8 in California. John was an imposing force in debate in southernCalifornia and across the country. He coached many great teams at USC, Redlands, and at Claremont.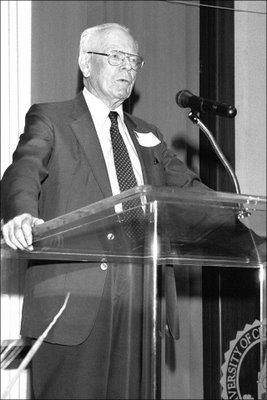 Joe Jackson, University of Central Oklahoma, 97